An EEG (electroencephalogram) is an important diagnostic tool in which electrodes placed on the scalp are used to measure the electrical activity on the surface of the brain. EEGs are primarily used in the diagnosis of epilepsy but can also be used in the diagnosis of other neurological disorders.
This article will discuss the reasons that an EEG might be performed, how the test is carried out, the associated risks and the different types of EEG that exist.
Why might an EEG be performed?
EEGs can be used in the diagnosis of a range of neurological conditions. EEGs are primarily used to detect abnormal brain activity in individuals who are suspected to have epilepsy. In addition to determining whether a person has epilepsy, the EEG may help determine the type of epilepsy someone has, and therefore how they should be treated.
Less commonly, EEGs might be performed on individuals who are suspected of having other neurological conditions, such as:
Sleep disorders
Brain tumours
Inflammation within the brain (encephalitis)
Dementia
Neurological symptoms following head injury
Rare degenerative diseases e.g. Creutzfeld-Jakob disease
EEGs might also be used to help determine the depth of anaesthesia of a patient, or to determine brain death.(1)
How is an EEG performed?
The procedure will typically begin with marks being placed on the scalp at the positions where the electrodes will be placed. These sites may then be cleaned before the electrodes are placed onto the scalp using a type of glue (see Figure 1 below).
Alternatively, a cap containing electrodes may be placed onto the head. The electrodes are connected by wires to the machine that will measure the brain's electrical activity. Taking the recordings typically takes between 20 and 40 minutes. During the recording, the patient may be asked to perform some tasks (e.g. hyperventilation, or looking at a flashing light). (2)
---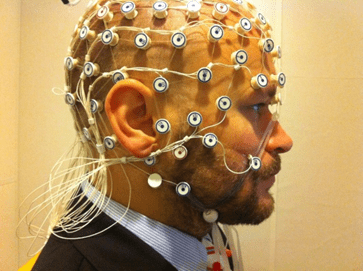 ---
During the EEG, a video recording may be taken of the patient. This allows the doctor to see what was happening with the patient at various points during the recording which can guide the process of EEG interpretation. (3)
After the EEG, the electrodes are taken off the scalp. Patients are typically able to go home immediately after the EEG is finished. The recordings are then sent to a specialist doctor (called a clinical neurophysiologist) to be interpreted. (4)
Having an EEG is not painful, as the electrodes just measure electrical activity in the brain (they don't transmit any electricity into the body). (5)
Are there any risks associated with EEGs?
EEGs are very safe procedures with few side effects. Any side effects that do occur are typically very mild (e.g., a rash may develop at the site of electrode placement). (6)
If a patient has epilepsy, there is a very small chance that a seizure could occur during the test, but the EEG will be performed in an environment where help can quickly and easily be provided if this does occur. (6)
Types of EEG
In most EEGs, the patient will simply sit quietly for most of the test, occasionally being asked to do some tasks.
Other types of EEG exist, such as:
EEG recorded during sleep – this test may be used in the investigation of sleep disorders (3)
Ambulatory EEG – allows monitoring of electrical activity of the brain over a longer period of time than a routine EEG would normally allow (e.g. a few days), increasing the chances of electrical activity being recorded during a seizure (3)
Invasive EEG monitoring – an uncommon form of EEG that involves electrodes being placed directly on the surface of the brain by a neurosurgeon. This approach may be used in patients who have already been diagnosed with epilepsy, in an attempt to identify exactly where seizure activity is originating from, and to determine whether surgery could be used to treat the patient's epilepsy (7)
Key takeaway points:
An EEG measures electrical activity on the surface of the brain
EEGs are recorded by attaching electrodes to a patient's scalp
EEGs are primarily used in the diagnosis of epilepsy, but can also be used in the diagnosis of other neurological disorders
EEGs are safe, painless procedures with few side effects
In addition to routine EEGs, other types of EEG exist, including sleep EEGs, ambulatory EEGs, and invasive EEG monitoring
References:
Rayi A, Murr N. Electroencephalogram. [Updated 2022 May 15]. In: StatPearls [Internet]. Treasure Island (FL): StatPearls Publishing; 2022 Jan-. Available from: https://www.ncbi.nlm.nih.gov/books/NBK563295/
Smith SJ. EEG in the diagnosis, classification, and management of patients with epilepsy. J Neurol Neurosurg Psychiatry. 2005 Jun;76 Suppl 2(Suppl 2):ii2-7. doi: 10.1136/jnnp.2005.069245. PMID: 15961864; PMCID: PMC1765691.
Benbadis SR. What type of EEG (or EEG-video) does your patient need? Expert Rev Neurother. 2015 May;15(5):461-4. doi: 10.1586/14737175.2015.1029918. Epub 2015 Mar 25. PMID: 25804449.
Fuller G, Bone I. Neurophysiology. J Neurol Neurosurg Psychiatry. 2005 Jun; 76(Suppl II):ii1. doi: 10.1136/jnnp.2005.069351
Grover H. Patient information leaflet for routine EEG (electroencephalogram) investigations. Norfolk and Norwich University Hospitals NHS Foundation Trust. 2022 Jan.
Litscher G, Kehl G, Schwarz G, Soyer HP. Inflammatory reactions of the skin caused by adhesive EEG electrodes. J Neurosurg Anesthesiol. 1997 Jul;9(3):277-9. doi: 10.1097/00008506-199707000-00014. PMID: 9239593.
Ramantani G, Maillard L, Koessler L. Correlation of invasive EEG and scalp EEG. Seizure. 2016 Oct;41:196-200. doi: 10.1016/j.seizure.2016.05.018. Epub 2016 Jun 10. PMID: 27324839.
Image references:
Figure 1 – Petter Kallioinen, CC BY-SA 3.0, via Wikimedia Commons