A cyst is a fluid-filled sac, somewhat like a facial spot. In cranial cysts, these sacs occur in the skull bone or the brain tissue itself. This blog post will outline the varying causes, the diagnostic process, and their main treatment pathways.
Causes
Most cysts are congenital, meaning that they were present before or at birth. Others can follow from cancers or be caused by infections. Of course, there are cysts of unknown origin, and a few of these will be detailed below. Each of these causes of cyst can have multiple types, which are outlined below. This is a non-exhaustive list, but it gives an idea of the number of subtypes present.
Cancerous
Metastatic cysts are a type of brain tumour that also contains a cystic component.
They are caused by metastatic spread from cancer in another body region. Most commonly this would be from bronchogenic carcinoma, breast carcinoma, choriocarcinoma of the uterus or placenta, and skin melanoma.
Infective
Whilst the brain is typically better protected from infection than other body regions due to the blood-brain barrier, an infection can still occur, such as from travelling and being in contact with wild animals. One way this happens is in a contained cyst. Some examples are below:
A cerebral toxoplasma abscess is a pus-filled area (abscess) not enclosed by a sac and caused by the parasite Toxoplasma gondii.
Neurocysticercosis is where multiple brain cysts are caused by a parasitic brain disease. The cysts contain the larva of the parasite, most often the pork tapeworm (Taenia solium)
A hydatid cyst is caused when the larval stage of the parasite Echinococcosis granulosus lodges into a part of the body.
Unknown
Here the cause is not yet known. To give an example, arachnoid cysts are benign lesions in the arachnoid space. Their origin may be congenital, but this is not certain, so the current cause is accepted as unknown. The arachnoid is a layer over the blood vessels on the brain's surface, as indicated by the image shown.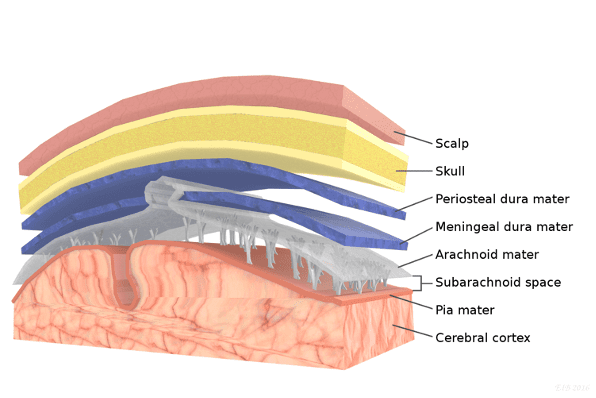 Retrieved from https://www.thoughtco.com/brain-anatomy-meninges-4018883 03.08.2022
Cysts can also form in the lining cells of the ventricle walls, from cells called neuroglial cells. When this growth occurs in the lateral ventricle, it is termed an ependymal cyst and again the cause is currently unknown.
Retrieved from https://www.toppr.com/ask/content/story/amp/brain-stem-ventricles-limbic-system-70555/ 03.08.2022 
Congenital
As previously stated, these are all present before or at the time of birth. Some examples include colloid cysts, which lie in the brain's ventricles, such as the lateral ventricle outlined above, and dermoid cysts sometimes called teratomas, which contain different tissue types including hair follicles, sweat glands and teeth.
Key signs and symptoms
Clinical features are largely dependent on the location and size of the cyst.
Keeping the above in mind, signs and symptoms may include:Headache
Hemiparesis, which is the weakening of one entire side of the body
Visual changes
Signs of increased intracranial pressure, which is the name for the pressure within the skull cavity
Seizures
Weakening of the eye muscles termed oculomotor nerve palsy
If the cyst has an infective origin, bursting of the cyst can lead to meningitis, which is the name for an infection of the layers that cover the brain.
If the cyst is congenital, it may be more likely to be benign as the individual has been able to live with it since before or at birth, and so clinical features may be milder.
Diagnosis
MRI and CT of the head are most used to rule in the likelihood of a cyst, with specialist intervention from the neuroradiologist, neurologist and neurosurgeons.
Imaging is not always clear, particularly for cerebral abscesses and cystic necrotic tumours. When this is the case, brain biopsy or surgery is needed to analyse the pathology for diagnosis to determine treatment.
Treatment
Treatment includes cyst drainage, excision depending on the size, and antibiotics if the cyst is of infective origin. Benign cysts usually require no treatment and watch and wait management can suffice if deemed necessary.
Key Takeaway Messages
The main causes of cranial cysts are cancer metastases, infection, unknown causes and congenital.
MRI and CT are used to diagnose cranial cysts and expert opinion from neuroradiologists, neurologists and neurosurgeons allow for a diagnosis.
In some cases, imaging alone will not provide a clear diagnosis, in which case the patient will be taken to surgery for a biopsy and histology of the suspected cyst.
Treatment is dependent on the cause of the cyst and includes cyst drainage, antibiotics and deciding not to intervene.
References:
https://www.ncbi.nlm.nih.gov/books/NBK535434/
https://www.ncbi.nlm.nih.gov/pmc/articles/PMC3659469/
https://www.ncbi.nlm.nih.gov/pmc/articles/PMC3876643/
https://www.britannica.com/science/ependymal-cell