The Cavernous Sinus is one of the intracranial venous sinuses within the meninges. It derives its name from small septations which lead to its "cavernous" or cave-like structure. In this article, we will briefly discuss the anatomy and function of the cavernous sinus, as well as explore some of the conditions that can affect it.
Anatomical Overview
To understand the importance of the cavernous sinus, we must first understand where it is, and who its neighbours are. The cavernous sinus is a paired venous sinus which exists in between the two layers of the dura mater. Its function is to drain venous blood away from all the key structures that pass through and around it; its central location makes it, arguably, the most important venous sinus. The sinuses exist in the middle cranial fossa on either side of the body of the sphenoid bone, which houses the pituitary gland. The borders of the cavernous sinus are:
Superior orbital fissure, anteriorly.
Petrous part of the temporal bone, posteriorly. (Study tip: Remember Petrous and Posterior sound alike).
Body of sphenoid bone, medially.
Meningeal layer of dura mater, laterally.
Meningeal layer of dura mater attaching to the anterior and middle clinoid processes of the sphenoid bone, forming the roof.
Endosteal layer of meningeal dura, forming the floor.
As mentioned earlier, the cavernous sinus is home to a large amount of key neurovascular structures. These are often sub-classified on whether they pass directly through the sinus, or along its lateral wall, and they are:
| | |
| --- | --- |
| Traveling through sinus | Traveling through lateral wall |
| Oculomotor Nerve (CN 3) | Internal Carotid Artery |
| Trochlear Nerve (CN 4) | Abducens Nerve (CN 6) |
| Ophthalmic Nerve of Trigeminal (V1) | Sympathetic Plexus of Internal Carotid |
| Maxillary Nerve of Trigeminal (V2) | |
Study Tip: You can use the mnemonic "O TOM CAT!" to help you to memorize the contents of the cavernous sinus. "O" for oculomotor, "TOM" for trochlear, ophthalmic, and maxillary nerves for all the lateral contents of the sinus, and "CAT" for internal carotid artery, abducens nerve, and trochlear, from medial to lateral.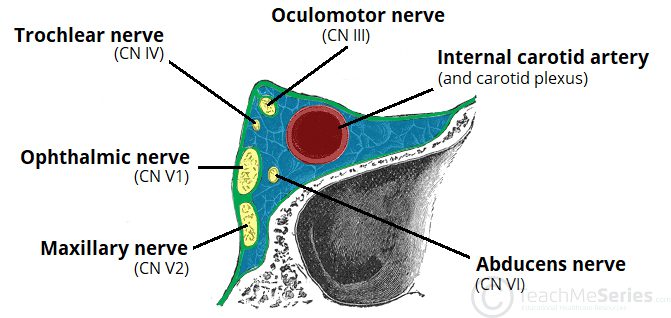 Fig. 1: Coronal section showing the contents of the right cavernous sinus.
Image reference: https://uwsmanagement.com/wp-content/uploads/sites/11/2022/12/Contents-of-the-Cavernous-Sinus.jpg
Since numerous neurovascular structures pass through and out of the cavernous sinus, it is therefore crucial that any lesion or pathology which affects the sinus be dealt with as quickly as possible. These pathologies could be primary, meaning that they originate from the sinus itself, or secondary, which means a pathology that's spread to the cavernous sinus. These pathologies include:
Primary Tumours
Metastatic tumours, extending from the head and neck
Inflammatory Pathologies, such as Tolosa – Hunt Syndrome
Infections
Vascular Pathologies, such as;

cavernous carotid aneurysm
carotid-cavernous fistula
cavernous sinus thrombosis
In today's article, we will talk more in-depth about cavernous sinus thrombosis, its presentation, and its management.
Cavernous Sinus Thrombosis
Cavernous Sinus Thrombosis is a condition in which the blood within the cavernous sinus clots due to a blockage of normal blood flow. It often occurs as a late complication of central face or paranasal sinus infections and is usually associated with high morbidity and mortality.
Aetiology
As briefly mentioned before, cavernous sinus thrombosis occurs as a rare complication due to infections of the face. Infections which are most notably associated with this pathology include nasal furuncles, sphenoidal or ethmoidal sinusitis, and dental infections.
The most common microorganisms responsible for these infections are Staphylococcus aureus, followed by Streptococcus spp.
N.B: It is important to note that unlike traditional veins in the rest of the body, the dural venous sinuses do not have valves which keep blood flowing in one direction and are thus largely dependent on gravity to drain the blood away from the brain and its surrounding structures. As a result, the sinuses are susceptible to bidirectional blood flow which makes them especially vulnerable to thrombosis from adjacent infected structures.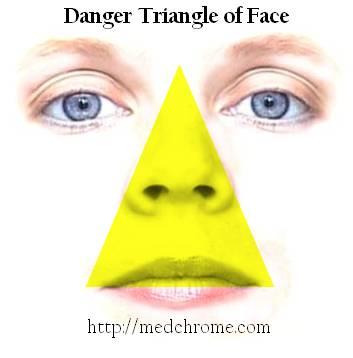 Fig. 2: Diagram demonstrating the "Danger Triangle" of the face. Wherein any pimples, furuncles, or infections can lead to cavernous sinus, if untreated.
Image reference: https://medchrome.com/wp-content/uploads/2010/07/danger-triangle-of-face.jpg
Symptoms and Signs
Owing to the complex nature of the neurovascular structures which pass through the sinus, pathologies that affect this region usually have a rather characteristic presentation.
These symptoms include:
Headache, usually localized to ophthalmic (V1) and maxillary (V2) branches of CN 5.
Fever.
Periorbital edema and pain.
Eye swelling.
Visual disturbances.
Mental status changes, including confusion, drowsiness, and coma.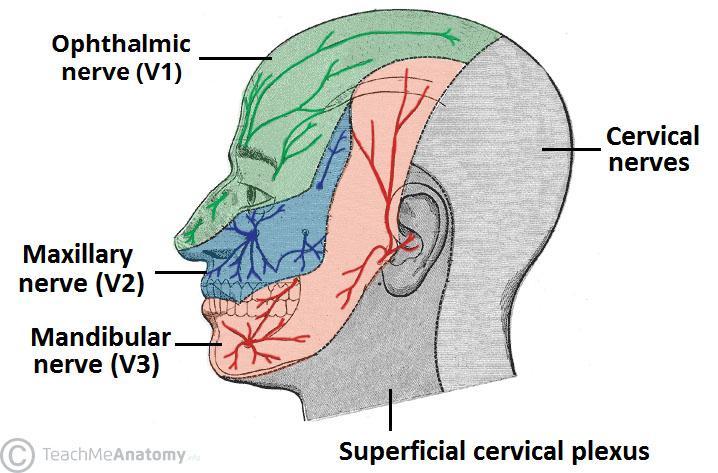 Fig. 3: Diagram demonstrating cutaneous distribution of the trigeminal nerve (CN 5).
Image reference: https://teachmeanatomy.info/wp-content/uploads/Cutaneous-Sensory-Distribution-to-the-Head-and-Neck..jpg
Clinical Signs:
Decreased facial sensation, due to affection of V1 and V2.
Lateral gaze palsy, due to affection of CN 6, which controls the lateral rectus muscle of the eye; dysfunction in this muscle leads to a medial squint.
Extraocular muscle weakness, due to affection of CN 3, which leads to general weakness in the muscles controlling eye movement as well as:

Ptosis, also known as "lazy eye," is caused by weakness in the levator palpebrae superioris muscle of the eyelid.
Miosis, inappropriate constriction of the pupil on the affected side.

Papilledema, swelling in the intraocular portion of the optic nerve, denoting an increased intracranial pressure.
Sluggish pupillary responses, and decreased visual acuity due to increased intraocular pressure.
Neck stiffness.
Without early management and effective treatment, signs will appear in the opposite eye as the infection spreads to the opposite cavernous sinus. This process takes place within 24-48 hours and is characteristic for cavernous sinus thrombosis.
Investigations
As it most often occurs as a late complication of paranasal sinus infections, cavernous sinus thrombosis is mostly a clinical diagnosis and lab investigations are of limited value. However, cerebrospinal fluid (CSF) examinations and cultures are usually consistent with the causative organism of the original infection.
Imaging to confirm cavernous sinus thrombosis is largely dependent on computed tomography (CT) scans or magnetic resonance imaging (MRI) with contrast. Usually, an MRI will follow a CT scan, especially if the CT is not definitive.
Other imaging modalities which can be utilized include MR venography (MRV) and CT with contrast, both of which will demonstrate abnormal blood flow and filling defects within the sinuses.
Management
Effective management of cavernous sinus thrombosis hinges upon the early detection and diagnosis of the condition, as prognosis is generally poor which further necessitates a high index of suspicion; management consists mainly of medications to control the condition.
Antibiotics: Antimicrobial treatment includes the usage of broad spectrum antibiotics to cover for gram-positive, gram-negative, and anaerobic organisms. Intravenous antibiotics are also indicated in the case of marked clinical compromise and if severe infection is suspected, such as due to Methicillin-resistant Staphylococcus Aureus (MRSA).
Corticosteroids: Corticosteroids are able to reduce inflammation and oedema and should be considered as adjunctive therapy to antibiotics.
Anticoagulants: While anticoagulant medications are especially useful in the prevention of clot propagation in similar conditions, the utility of these drugs has not yet been proven for cavernous sinus thrombosis and more prospective studies are needed. However, a Cochrane Review on two small studies concluded that the use of heparin (a potent anticoagulant) to prevent further thrombosis was deemed safe and was associated with a reduction in the risk of death.
Surgery: The use of surgery in the management of cavernous sinus thrombosis is of limited utility, and is also technically challenging. Surgery is thus better suited as a management option for the primary infection (such as a facial abscess or sinus infection).
Summary
The cavernous sinus is one of the most important dural venous sinuses, due to its central anatomical location, and its neighbouring structures. Lesions in this region are uncommon and are difficult to treat but have a characteristic presentation due to the structures which pass through the sinus. Cavernous sinus thrombosis is an extremely rare and highly fatal condition that can occur as a complication of facial or paranasal sinus infections, and therefore it necessitates a high index of suspicion to be able to detect and manage as early as possible.
References:
Coutinho J, de Bruijn SFTM, deVeber G, Stam J. Anticoagulation for cerebral venous sinus thrombosis. Cochrane Database of Systematic Reviews 2011, Issue 8. Art. No.: CD002005. DOI: 10.1002/14651858.CD002005.pub2.
Ayse Tuba Karagulle-Kendi, Chip Truwit, Chapter 15 – Neuroimaging of central nervous system infections, Handbook of Clinical Neurology, Elsevier, Volume 96, 2010, Pages 239-255, ISSN:0072-9752, ISBN 9780444520159,